Heater Repair in Los Angeles
---
Serving Los Angeles for 75 Years

24-Hour Emergency Service Available
Request Service
Please fill out the form below to request an estimate or schedule service.
---
Is your heating system ready to weather the winter?
While Southern California homeowners are fortunate to enjoy our temperate climate, we can easily hit 30-degree and 40-degree temperatures in the winter. Unless you're fine with feeling frosty, this means you'll need your heat pump or furnace to do its job – and do it well.
In order to keep your heating system running smoothly, it's important to invest in regular heater service and prepare your system for winter as soon as possible.
Schedule Your Heater Repair Service Today!
Ready to get started with your service or repairs? Schedule your appointment online, or give us a call at (310) 896-4911.
---
Routine Heater Services
Brody Pennell provides routine heater service in the Los Angeles area and surrounding cities. We prioritize your trust, safety, and confidence in us, just like we have for 75 years. Our commitment to the performance of your system isn't just about "doing a day's work" in our industry. We treat our customers like family because they're our friends and neighbors. We live in the communities we serve. We understand how important it is for your loved ones to feel cozy at home.
We also know the value of a dollar. As a locally owned business, we understand budgets. We want to keep all our services affordable and effective for homeowners like you!
Pre-season check-up
As autumn draws in, the chill comes with it. Before you're ready to turn up the heat, consider having the heater checked out first. Just like firing up a vintage car you've had sitting for a while, your heating system may not run like it did last year. We can give it the warm-up it needs to last all season long.
Performance support
Could your system be working better? If your heating system is functioning but could be heating your home more evenly or working more quickly, let's talk about it. We may be able to help you improve the performance and lifespan of your system without a total overhaul.
Routine maintenance
The most important type of routine service is preventative maintenance that helps you avoid costly repairs. If you haven't already, consider joining the BPM Club!
"My heater doesn't work. Now what?!"
Nobody wants to turn on their heat – for the first time, or any time – to find that it doesn't work. Whether your system fails to kick on, cycles on-and-off, makes funny noises, or emits an odor, it's best to call Brody Pennell. Our trained, certified technicians are equipped to diagnose any and all heating issues and repair them quickly and effectively. We don't patch issues and let them come back in a few weeks – we find the source of the problem and provide lasting solutions.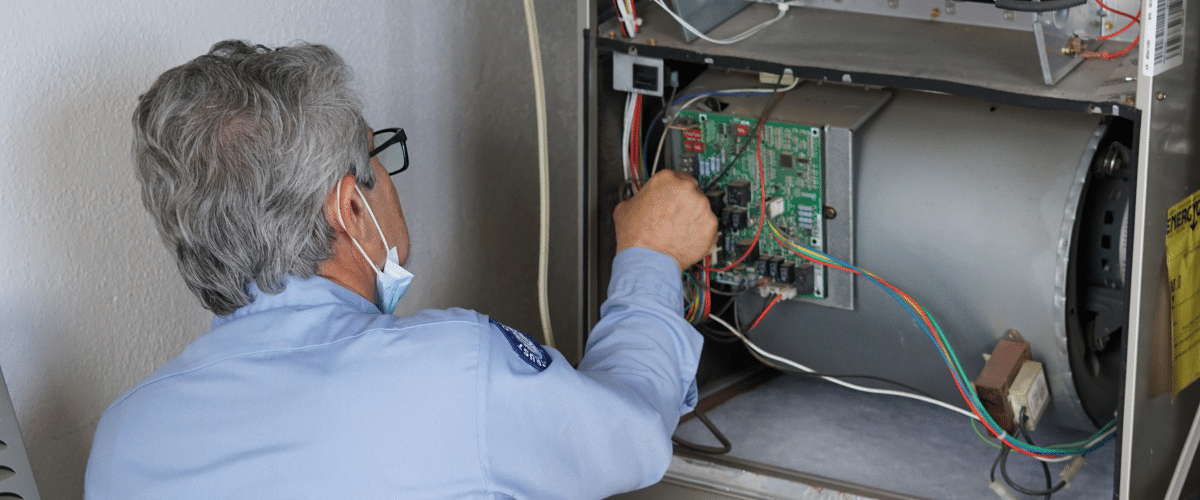 Heater Repair in Southern California
No matter which type of heating system you have, Brody Pennell can handle it.
Furnace repair
Regardless of the age or health of your furnace, we'd love to look under the hood. If we can help you reduce energy costs, experience more even and consistent heating, and enjoy comfort all winter, we will. If the system needs replacement, we'll talk about options with you.
Duct repair
If your system runs on ductwork, your ducts may have leaks or infiltrations that are causing your entire system to perform poorly or shut down entirely. We'll find the source of your system failure and fix it, quick.
Heat Pump repair
Your heat pump might be doing twice the work. If you use it to cool your home as well, you'll be putting the system through twice the seasons of labor. While heat pumps are built for longevity and efficiency, problems do arise. We can help find those issues, assess the best solution, and make sure you're getting the most from your system.
Emergency Service
Even in temperate climates, temperatures can get extreme. If your heat breaks down in the dead of winter and you need emergency service, don't wait. Call Brody Pennell.
We always do our best to repair your system; we know replacement can be costly. However, if we triage your system and find issues that wouldn't be worth repairing again and again, we'll let you know. If we decide together that it's time to replace your system, we can consult on the best way to get that done without feeling the chill in your home or your bank account.
$50 off Any HVAC Repair
New Customer Special. Limit one coupon per customer. Call for more details.
Beyond Heater Service and Repair
When you have your heating system serviced by Brody Pennell, you'll get more than just a warm and comfortable home. We also provide financing with approved credit which may ease the burden of cost, air quality services to ensure that you're breathing unpolluted air, and other resources to ensure that your HVAC experience is simple and satisfactory all year long.
Request Service
Please fill out the form below to request an estimate or schedule service.
---
Frequently Asked Questions
---
Why Choose Brody Pennell?
---
24/7 Emergency
Repairs
Flexible Financing
Options
Award-Winning
Service
Parts & Labor
Warranties
Request Service
Please fill out the form below to request an estimate or schedule service.
---