Award-Winning AC Repair in Los Angeles
---
Serving Los Angeles for 75 Years

24-Hour Emergency Service Available
Request Service
Please fill out the form below to request an estimate or schedule service.
---
Professional Air Conditioner Repair Services
Here's the thing about air conditioning in LA: once you have it, it's hard to go without it. Opening the windows can only do so much! So when your AC breaks down, it's essential to find a reputable repair service as soon as possible. Don't look any further than the professional team at Brody Pennell. We'll get your air conditioner repaired to working operation so that you can get back to feeling comfortable.
Brody Pennell has been serving the Los Angeles area for 75 years, taking care of AC repairs from Malibu to Laguna Beach. No contractor in LA can beat our service record. We are recognized year after year by industry leaders like Carrier and consumer groups like the BBB. And our customer reviews say it all: we're a 5-star company. So if you want to work with the best, give us a call today!
Schedule Your AC Repair Service Today!
Ready to get started with your service or repairs? Schedule your appointment online, or give us a call at (310) 896-4911.
---
24/7 Emergency AC Repair Service
We understand that after a long day of work, you enjoy spending quality time with your loved ones. But when your air conditioner breaks down, this can quickly ruin your evening and cause discomfort and frustration in your household. For that reason, we have on-call technicians & customer service representatives standing by ready to help you out.
Brody Pennell proudly services the Greater Los Angeles area, including:
Los Angeles
Bel Air
West Los Angeles
Santa Monica
Beverly Hills
Manhattan Beach
Pacific Palisades
Culver City
Brentwood
Ranchos Palos Verdes
and Surrounding Areas…
If you are in need of immediate AC repair service, give us a call at (310) 896-4911 or submit an online service request. Our team is here for you!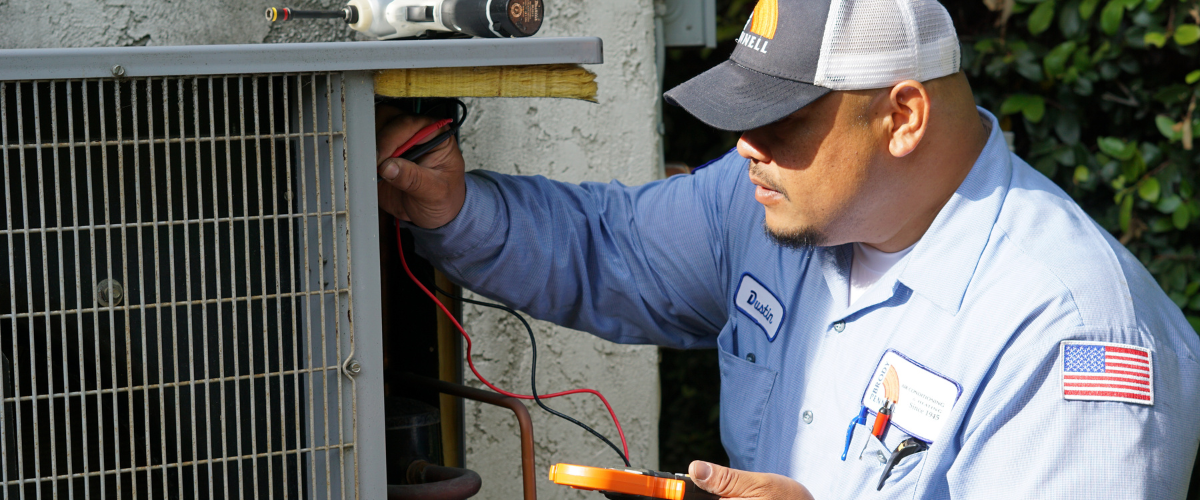 What happened? Why does my AC need repair?
Even if you keep your air conditioner correctly maintained, at some point it's going to require repair services. Air conditioners are working machines, with parts that wear and tear over time.
Think about when a car breaks down and requires service. There's a whole host of things that could have gone wrong. Some are more common and could be a simple fix, while others, maybe more complex and potentially costly. But, you won't know for sure until you have a qualified expert on the case.
The same is true with AC repair. Your air conditioner could be broken due to leaks, inadequate lubrication, age, dust, electrical issues, wear and tear, or even faulty installation. One of our trained and certified technicians can visit your home and evaluate your system. Then, we can give you a straight answer on what's needed to get your air conditioner up and running.
How soon can you get here?
No matter what time of day you discover your cooling system is broken, you can call us. Seriously! Whether it's 3 am or early Sunday morning, our team is hard at work keeping LA comfortable. Call us anytime – really! – at (310) 896-4911, and we will dispatch a technician to your home.
Rest assured that you will get the same level of service anytime you call. We know how stressful it is not to have the air conditioner working. No matter when we visit your home, you can still expect us to arrive with collared shirts and covered shoes. We make every effort to fix your AC in one visit. That's why we keep our service trucks fully stocked. No matter what the problem is with your AC, we'll be able to solve it.
$50 off Any HVAC Repair
New Customer Special. Limit one coupon per customer. Call for more details.
Common Air Conditioner Repairs
As the heat is rising in your home, you might be wondering: how bad is it? Here are some of the more common problems we see in LA:
Refrigerant Leaks
Drainage Problems
Broken Condenser Fan
Compressor Issues
Refrigerant Leak
Your air conditioner uses a chemical refrigerant in order to cool air in your house. The refrigerant is contained in pipes that connect indoor and outdoor equipment. A leak somewhere in the system can cause the air conditioner not to cool as effectively. The best solution is to find the leak, seal it, and then add refrigerant back to proper levels.
Drainage Problems
Have you ever noticed the condensation that forms on the outside of a cold water glass? Air conditioning coils get very cold and also produce condensate. Air conditioners are designed with drain pans and piping to help the condensate flow away. But if there's a clog somewhere in your system, it can cause all sorts of problems. For example, you might experience very high humidity levels, or, if your drain pan is full, your AC may not turn on at all.

Broken Condenser Fan
the big metal box outside your home is called the condensing unit. The condensing unit houses a compressor, coils, and one or more fans. All of these components are integral to the operation of your air conditioner. Specifically, the outdoor fan helps cool the refrigerant and push hot air away from the unit. If it's not operating, your system will struggle to perform. The root of the problem could be any number of things, from a motor problem to bent blades.
Compressor Issues
Perhaps the most feared by homeowners, a compressor problem is one of the most complex repairs. The compressor is the most critical part of your air conditioner. Without it, nothing else in the system works properly. It is a sophisticated device, so if there is an issue with your compressor, there are many potential causes. Compressors are also the most expensive component of any air conditioning system. So if you're facing a compressor replacement, you might consider replacing the air conditioner instead.
The Best AC Repair in LA
Brody Pennell has completed hundreds of thousands of AC service calls. When you work with Brody Pennell, you can expect:
Friendly, courteous service from our entire team. We call this "old school" customer service!
Certified, trained technicians
Full-stocked service vehicles
Repair services available 24 hours a day, 365 days a year
100% satisfaction guaranteed
Don't wait any longer! Call Brody Pennell now at (310) 896-4911 to get your AC up and running again.
Request Service
Please fill out the form below to request an estimate or schedule service.
---
Frequently Asked Questions
---
Why Choose Brody Pennell?
---
24/7 Emergency
Repairs
Flexible Financing
Options
Award-Winning
Service
Parts & Labor
Warranties
Request Service
Please fill out the form below to request an estimate or schedule service.
---