Rancho Palos Verdes Heating and Air Conditioning Repair & Replacement Services
From the green rolling hills to the blue water of the ocean, Rancho Palos Verdes is as picturesque as a postcard from every angle. Almost every part of this town has a view of the Pacific Ocean, making it hard not to enjoy a sunny day when you live here. The salty air rustles the leaves in the tall palm trees as the afternoon winds come off the water and into the city. The red sands along the hills and cliffs make for great pictures and even better meditation spots. It's a perfect place for active people who like hiking or surfing, two of the most popular local pastimes.
If you're looking for AC Repair & Installation Rancho Palos Verdes from an affordable company, contact Brody Pennell Heating and Air Conditioning today. Our HVAC technicians are available to help with any issue with your heating or cooling at any time of day or night.
Tourists may think Rancho Palos Verdes has the perfect climate, but locals know you can't survive summer without a powerful AC system or winter without a heater. When you need to repair your HVAC in Rancho Palos Verdes, our award-winning team at Brody Pennell will have your back. Your comfort is our top priority, so we offer 24/7 HVAC services to all Rancho Palos Verdes homeowners.
Whether you wake up sweating with a broken AC or your furnace fails on Christmas day, our team will be there. Call us anytime at (310) 896-4911 for prompt, reliable, and high-quality HVAC services. You can rely on our team to provide the following:
Knowledge: After 75 years of helping LA homeowners feel more comfortable, we've seen it all. You can rely on our industry connections, knowledge, and experience.
Award-winning service: Our trained, licensed, and insured contractors receive local and national recognition for exceptional HVAC services, generating consistent five-star reviews from our customers. If you search "HVAC repair near me," you'll see hundreds of raving reviews from our satisfied clients.
Technical expertise: Training and education are at the forefront of everything we do. Our team continues researching groundbreaking HVAC technology so we can provide the most advanced solutions to our clients. Our team works with all brands and models with a deep understanding of how different units operate.
As the preferred HVAC company in Rancho Palos Verdes since 1945, we can fix any of your problems efficiently. We serve all of LA and the surrounding neighborhoods. Read on to learn about our range of HVAC services.
Stay Cool Year-Round With Premier AC Services
If you searched online for "AC repair near me," you've come to the right place. We specialize in helping homeowners stay cool all summer, whether repairing units, preventing problems with routine maintenance, or upgrading to more advanced systems.
Signs Your AC Needs Repairs
The last thing you want is to wake up on a hot summer morning without air conditioning. Most AC units show signs before they fail. If you know what warning signs to look out for, you can call our team for repairs before severe complications arise.
Call our team immediately if you notice the following problems:
Concerning sounds coming from the unit
Warm air blowing while the AC is on
Constant on-off cycles
Suddenly high energy bills
No unit power
In any of these cases, our team will examine the unit, diagnose the problem, and offer our experience-based recommendations. For example, we can seal leaks in refrigerant lines to improve cool airflow while preventing more expensive problems.
Need AC Repair in Rancho Palos Verdes? View Our Top Services
If you need an AC repair in Rancho Palos Verdes, look no further. Our HVAC team in Rancho Palos Verdes will arrive on time with all the equipment necessary to complete the job. We go beyond Band-Aid solutions by repairing your unit with longevity and comfort as our top priorities.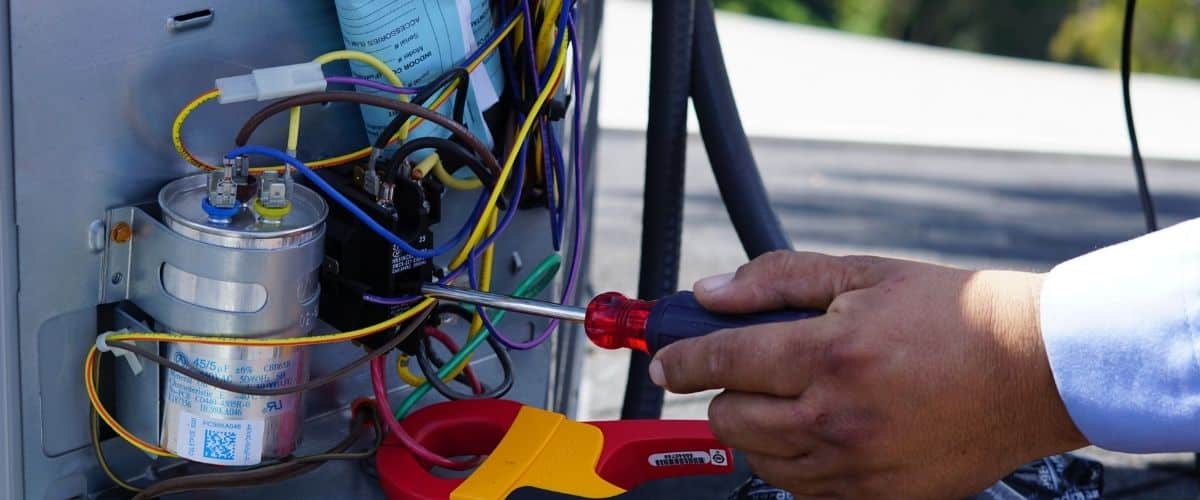 We know you're not an HVAC expert, so we explain everything in plain language. It's your home, so you deserve to know what repairs we complete and why. After examining the unit, we discuss the necessary fixes and cost estimates with you up front so you know what to expect.
Some of our most common AC repairs include the following:
Refrigerant leaks
Drainage problems
Faulty fans or blowers
Broken compressors
Capacitor replacements
Frozen AC coils
Contact replacements
Evaporator coil replacements
Drain line blockages
Condensation pump repairs or replacements
Circuit board replacements
Thermal expansion valve troubleshooting
Professional AC Replacement in Rancho Palos Verdes
With older units or irreparable damages, we typically recommend replacements. We install the most advanced and efficient air conditioning solutions, allowing you to stay cool for minimal energy costs. Whether you want to replace your broken system, upgrade to something new, or install a unit into a new build, we can help.
Our team will analyze your home size, cooling needs, energy usage, and budget requirements to offer product recommendations. If you need an AC replacement in Rancho Palos Verdes, we'll help you find the best option. Give us a call at (310) 896-4911 to schedule a free estimate.
Prevent Problems With Routine AC Maintenance
Rancho Palos Verdes heat persists most of the year, giving your AC unit a workout. Like bringing your car in for an oil change, your AC needs regular tune-ups to continue operating at full blast. Routine maintenance can help your system last longer.
Our maintenance program will keep your system lubricated and in tip-top shape, ready to cool your home for the entire season. By maintaining your AC, you can reduce your energy costs, helping you save money on bills, repairs, and replacements in the long run.
Prepare Your Furnace for Chilly Evenings
Many LA homeowners falsely assume that their heaters will last longer without requiring repairs because they only use them for a couple of months of the year. However, the longer your unit sits unused, the more problems it may have the first time you switch it on in the fall. The last thing you want is to wait for LA's first chilly day only to realize your furnace won't kick on.
At Brody Pennell, we know that staying comfortable year-round in Rancho Palos Verdes means having a heater you can depend on for those random chilly fall evenings and cold winter days. We provide emergency repair services, installation options, and maintenance plans so you can rely on a warm home whenever needed. Call us to repair or install your HVAC in Rancho Palos Verdes.
How To Know When Your Heater Needs Repairs
No one wants to Google "furnace repair near me" on a cold winter night. The best way to prevent your heater from shutting down is by learning the tell-tale warning signs.
You should contact our team immediately if you notice any of the following problems. We can repair any of these minor issues before they develop into severe complications:
Abnormal odors from the furnace
Trouble starting the unit
Weak or discolored pilot light (on gas units)
Cool air blowing from vents
Strange banging or creaking sounds
Carbon monoxide detector alarms
High energy bills
We recommend testing your unit in the early fall before temperatures start dropping. This way, you can troubleshoot problems early on and call our team for repairs before winter hits. Call our team today at (310) 896-4911 if you have any questions.
Rancho Palos Verdes Heating Repair Services
If you got here by searching "heater repair near me," look no further. Our trained technicians have experience with all furnace and heater systems, so we're ready to resolve any problem you have. Whether you have a gas heater, electric system, furnace, or anything else, we can help.
First, we'll test your unit and inspect all parts to locate the problem. Our team will discuss the damage extent, repair requirements, and expenses. We come prepared to service appointments with all the necessary equipment to complete the job on the spot.
Heater Installations and Replacements in Rancho Palos Verdes
If we determine your unit is beyond repair, we can help you select a new heating solution for your home. Our team installs all the latest heating systems, including energy-efficient heat pumps, ductless mini-splits, and more. We have plenty of combined options for consolidating your heating and cooling needs into a single unit that takes up less space and consumes minimal energy.
We can walk you through the most suitable options based on your home's size, heating requirements, energy consumption rates, and budget. Whether you need to replace an old broken heater or upgrade to a more advanced option, we can help. Give our office a call at (310) 896-4911 to schedule your estimate.
Annual Tune-ups
You invested in a heating system, so you want it to last as long as possible, especially since you likely only use it for a few months out of the year. Regular maintenance appointments help your unit last longer.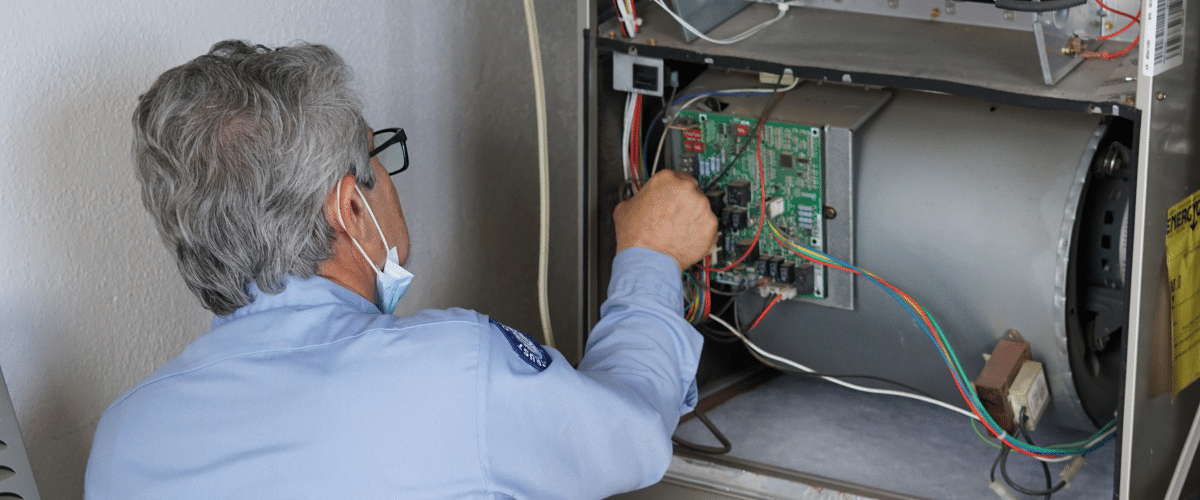 Our team will ensure that all components work properly during the annual tune-up. We change out filters for optimal air quality, lubricate necessary parts, and clean the entire system. Schedule a pre-winter tune-up with our team to test your heater and ensure everything works properly before the cold weather hits.
Providing Emergency HVAC Services When You Need Them Most
Air conditioning or heating failures are serious concerns. You cannot wait days in a hot house for a repair company. When you need emergency repairs for your HVAC in Rancho Palos Verdes, we're ready to help.
Our team operates day and night, including holidays, to be there when you need us most. You can call (310) 896-4911 anytime for emergency HVAC services, and our professional team will arrive as soon as possible.
Our Advanced HVAC Solutions for Luxury LA Living
As the premier provider for all things HVAC in Rancho Palos Verdes, we offer the most advanced heating and cooling solutions on the market. The newest technology provides maximum comfort with high energy efficiency ratings, reduced monthly costs, and simplistic maintenance requirements. From smart thermostats you can control from your phone to ductless mini-split solutions, we can help you transform your home into a modern machine.
Heat Pumps
Heat pumps are the latest green energy solution, offering a more efficient alternative to traditional air conditioners and furnaces. The units work similarly to refrigerators, relying on electric coils for immediate air temperature control. What makes heat pumps so unique is the reversing valve technology that allows you to automatically switch between cooling and heating depending on the time of year.
Heat pumps can replace your entire HVAC setup, reducing yearly costs and offering easier maintenance requirements. Because of the mild climate in Rancho Palos Verdes, heat pumps offer an excellent downsizing solution, removing the need for a separate heater unit you don't use for most of the year.
---
Useful article: California Heat Pump Electrification in 2023
---
Smart Thermostats
Smart thermostats connect to the internet, allowing you to manage your HVAC systems from your phone anytime. You can track energy usage, control temperatures, and maximize the system's efficiency with just a few taps.
For example, say you go on vacation and forget to turn your AC off before you leave. No worries! You can control your entire home's HVAC system as long as you have an internet connection.
Smart thermostats also pair with many other home automation devices, allowing you to enjoy comprehensive modern living.
Indoor Air Quality Services
You and your loved ones deserve the highest-quality air while relaxing at home. If you notice poor air quality symptoms, like coughing, sneezing, strange smells, dryness, or humidity, we can check your home for contaminants.
Things like dust, pet hair, carpet cleaners, laundry detergents, and more can dampen your home's air quality and quickly accelerate into health concerns for your entire family. Our qualified professionals perform comprehensive air quality checks to locate and resolve any concerns.
We offer a wide variety of air quality solutions, including the following:
Air purification devices
UV lights
Whole-house purifiers
Filter replacements
Air scrubbers
Ventilation services
Ductless Mini-split Installation in Rancho Palos Verdes
Ductless mini-split systems remove the need for central cooling and heating units, allowing you to control temperatures in individual rooms for maximum energy efficiency. For example, you can set your bedrooms and kitchen at a cool 68 degrees with your living room at a warmer temperature for ideal comfort everywhere you go. After a ductless mini-split installation in Rancho Palos Verdes, you can save as much as 35% on your monthly energy costs.
If you're unsure which modern HVAC solution is best for your needs, don't fret. Our team can walk you through the best options for your home based on your budget and property size.
Call Brody Pennell for All Your HVAC Needs
Do you need to repair, replace, or upgrade your HVAC in Rancho Palos Verdes? Let the team at Brody Pennell do it right. Our award-winning experts provide the highest-quality services with the most advanced solutions for homeowners across the Rancho Palos Verdes area.
Whether you need routine maintenance, AC or heater repairs, or wish to upgrade your system to a more energy-efficient solution, we can help. Call (310) 896-4911 anytime for your HVAC needs, and our Brody Pennell professionals will make your home feel comfortable again.